On this page I'll attempt to describe our family's roots. First I'll begin with a brief statement of what I've been told by relatives and then continue on with a family history that was written in 1908 by Julia [McGlawn] Price. Following these histories, I've included some of the family documents that I have collected from various areas that the McGlawn family have resided in. Many thanks to all that have contributed. If you have a story to share, please contact me by signing my guestbook.
====================================================
Here's a little something that I put together for the McGlawn line.
The family says that James Toles McGlawn was in some sort of police or law enforcement or maybe even a bounty hunter. So the story goes, he wasn't home much but when he was, he always managed to get Arter in a family way. The family originally lived in the Birmingham and Shelby County areas of Alabama and then moved to around Senath or Arbyrd, MO. Most of the children stayed in Alabama and only a few came to MO with the parents so I understand. All of the children, except for Margie, were born in AL. Margie was born in MO. So I've heard, some of the current Alabama branch of this McGlawn family were not even aware of Margie existing as a child of James Toles and Arter McGlawn until just a few years ago. James Toles McGlawn died just after Margie was born. He died from what they called Pleurisy. Pleurisy is defined as pain in the chest area with each breath. That is about all that I know about him. James Toles McGlawn isn't buried in the same cemetery as his wife Arter. James Toles is buried in a cemetery "just past the tracks in Senath, MO". Arter is buried in Lulu Cemetery, Lulu, Dunklin Co., MO. Why they were not buried together is a mystery, but I've found it not an uncommon thing to happen especially when one outlives the other by several years. Arter never re-married after James Toles died. Arter either lived with her children or they lived with her. Some of the places that I have been told that the McGlawn family lived were in Arbyrd, MO; in Hollywood, MO and also possibly in Leachville, AR. I'm sure that there were other areas as well, but not clear on all of them. They moved around quite a bit living with different family members.
-- October 5, 2002 --
====================================================
Please note that I have found many errors in this history (below), but it is still a useful tool for the research of my McGlawn/McGlauhon family history.

HISTORY OF THE McGLAWN FAMILY
As written by Mrs. Julia McGlawn Price

My Great Great Grandfather, William McGlawn, was born in 1740. A Scotsman by birth, He and his Brother, Hardie McGlawn, migrated to America in the year 1760 and settled in Bertie county, North Carolina where William was soon married to a Miss Nancy Kapott. There was born to them four children, two boys and two girls. He never moved from this home and death came in his old age. (date unknown)

My Great Grandfather whose name was Jerimiah was one of these four children and was born in the 1768. He was a poor uneducated but industrious man who never learned economy. He learned the carpenters trade and was a very good workman. He, at the age of twenty three was married to a Miss Nancy Baker and soon after moved to Hancock county, Georgia where they remained one year and then moved to Putnam County, Georgia. There was born to them eleven children, one of which died in childhood.

My Grandfather, Edward McGlawn, was one of these eleven children and was born in the year 1816 on august fourth. Soon afterwards the family moved to Butts County, Georgia and settled near the town of Jackson on the Oak Mulga River. Here the children spent many happy hours hunting and fishing. They owned a good farm which brought them an ample living. Schools were few and very poor and education was not very well thought of but by diligent study my Grandfather learned to read and write very well and became quite a Bible student. This he acquired by attending a Sunday School organized by two young men who saw the dedication of the children in that community, a strong coincidence, since neither of these young men, who were brothers, were converted when they started this Sunday School. Their names were William and Jessie White. They soon found that the responsibilities of the school demanded Christianity in its propagators so this work led them to acceptance and faith in the Lord Jesus Christ.

When my Grandfather, Edward, was nineteen years of age he enlisted as a soldier in the Creek Indian war and was mustered into service at the town of Lafayette, Ala. That was the year of 1836. He was in many hot contests with the Indians and helped save many families from the scalping knife. He helped pursue, roundup and capture those who were trying to escape into Florida, brought them back as prisoners of war and turned them over to General Scott who was chief commander at that time. There was little fighting after this and he was honorably discharged and the Indians were sent away west of the Mississippi River.

My Grandfather being of buoyant spirit and somewhat adventuresome, traveled and traded among the Indians in Mississippi but finally returned and settled down to overseeing Negro slaves on large plantations in Dallas County, Ala. This gave him some maturity as a farmer. This was the year 1837.

That same year he also learned the trade of making crockery ware. In the same year of 1837 he married a Miss Jamima Lovejoy of Troup County, Georgia and very soon after moved to Chambers County, Ala. Where he again engaged in overseeing work but remained here only two years as he was offered better wages in Randolph county, Ala. And moved near to where the town of Roanoke now stands. The plantation owners name here was James Hawthorne. In this business he met with many perplexities and hardships and I have heard him declare many times his anger had been stirred to the point of indignation.

It was while living at this particular place that he attended a camp meeting on a place known as Micklers Camping Grounds and while listening to those wonderful Preachers preach on sin, righteousness and judgment to come my Grandfather became powerfully alarmed concerning his spiritual condition. As a penitent he immediately sought salvation and found it by faith in Jesus Christ.

He did not join the church at once but chose to read and inform himself on the different doctrines and creeds. When satisfied, he united himself with the Methodist Episcopal Church and for thirty eight years he was both a Steward and class leader. He moved a great many times but his office always followed him. I have often heard him tell of the good old times of his class meeting days and no doubt many sinners were led to Christ by his earnest efforts.

He enlisted in the civil war which broke out between the states in 1861. He gave three years service to this war and came out broken down in health and with nothing left him but a wife and a house full of children. He regained his health very well and worked very hard for twenty years after the war. Grandmother passed away Dec. 2, 1880 at the age of sixty-two and was buried at Elliottsville, Ala. All of their children have passed away now except John William who was also in the Civil war from 1861 through 1865 and passed away in Cullman, Ala. At the age of ninety three. There was an only daughter, a Mrs. N. J. Tate who lived near Pratt City, Ala. There was also another son, my father, Rev. D. S. McGlawn who lived in Athens, Ala.

Since Grandmothers death Grandfather has lived with one or the other of his children. He has been now seven years with my Father and is blind. He will be ninety two years old this coming August 4th. It is due to his excellent memory that I have been able to gather these facts.

Dated January 3, 1908

Signed Mrs. Julia Price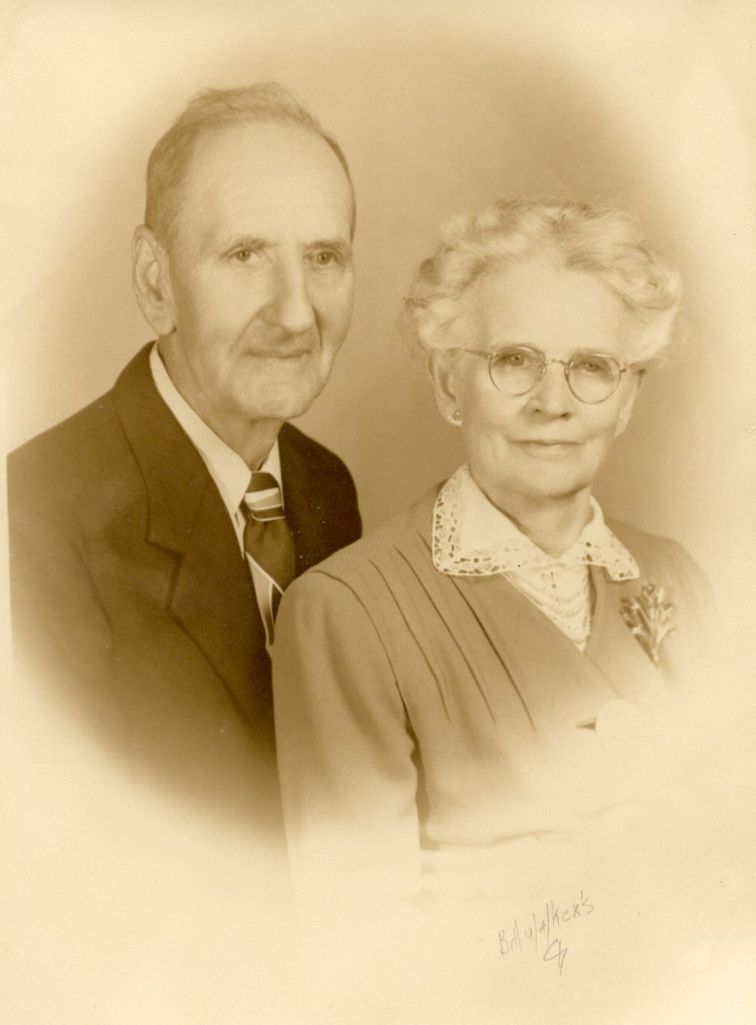 Mary Julia (McGlawn) & James Edwin Price
============================================================

This will was dated in corner of page as Feb. 28, 1826.

William McGlauhon Will, No. 171.

In the name of God Amen: I William McGlauhon being very sick in body but in perfect mind, and memory thanks be to God for the same do make this my last will & testament in the manner and form following: First I recommend my soul to the hands of God who gave it and my body to the dust from whence it came and wish it buried in a Christian like manner and my worldly goods that it has pleased God to give me I dispose of in the following manner:
First: I wish all my just debts paid:
Secondly I give and bequeath to my Daughter Sarah Oxley the land & plantation where who now lives beginning at John Hunters line in the old Razor Rode then along the said Road to Loghouse swamp then down the swamp to Hardy"s line then their line & others round to first station also two Negroes by the name of Dick & Miles which she now has in possession to her and her heirs forever:
Thirdly: I lend unto my daughter Elizabeth Davidson the land adjoining the land I gave to Sarah Oxley beginning at Loghouse swamp in Hardly Line a little above my fence then across to Hunters line so as to leave the plantation that I now live on, on the South side of said line. I also lend unto Elizabeth Davidson three Negroes named Mary, Nelson & Penny to her, her life time and after her death to her children say James and Martha Davidson and their heirs forever:
Fourthly: I give and bequeath to my son James McGlauhon the plantation whereon I now live and the balance of my land not already given away & two Negroes named George & Lewis to him and his heirs forever, which Negroes he has in his possession.
Fifthly: I give to my son Jeremiah McGlauhon one Negro red Boy Jess which Negro he carried away with him to him and his heirs forever also give and bequeath to my son Jeremiah McGlauhon three hundred dollars to be raised by my Executors out of my property that is not given away and the balance after paying my just debts to equally divided amongst my other three children namely, Sarah Oxley, Elizabeth Davidson & James McGlauhon to them and their heirs forever.
Lastly of all I ordain my friends John H. Cobb & Wm. Worley my sole Executors to this my last will & testament revoking and making void all others I might of made in Witness I have hereunto set my hand & seal this February 28th, A. D., 1826.

Signed, Wm. McGlauhon, Seal

Signed in prsence of
W. H. Speight,
X. Elisabeth Thomas.

State of North Carolina,
Bertie County Court May Term, 1826.

This last will and textament of William McGlauhon decd. was proved in open Court by the oath of Wm. H. Speight one of the subscribing witnesses thereto & ordered to be recorded at the same time Wm. Worley & John. H. Cobb the Executors therein named qualified as such.

E. A. Rhodes, Clk.


========================================================

OBITUARY.
Jemima N. McGlawn, daughter of William and Martha Lovejoy, and wife of E. McGlawn, was born in Jasper county, Ga., Sept. 24, 1818, and died of dropsy, in Shelby county, Ala., Dec. 2d, 1880.
She embraced religion and joined the Methodist church in her eleventh year, consequently had been a disciple of Christ for more than fifty years. Her religion was a devine reality-a living power in the heart-permeating her entire being, and molding her character according to the Divine Model.
The uniform testimony of those who knew her is, that, judging by her fruits, she was a genuine christian. She was kind and benevolent-ever ready to relieve the distressed as far as was in her power. She especially delighted to entertain the ministers of the gospel and administer to their necessities.
Her marriage with Bro. McGlawn took place in Troup county, Ga., Aug. 24, 1837. They had ten children, eight of whom lived to be grown. Seven of them are still alive, all of them members of the church, and one of them has recently been licensed to preach.
The deep sorrow that fills the hearts of husband and children shows that, as wife and mother, Sister McGlawn filled her place and did her work well.
According to her dying request, her funeral was preached on the 4th Sunday in May, 1881, by the Rev. J.T. Roper, of the Alabama conference, with whom she had long been acquainted. The text was, Heb., 4:9. A good impression seemed to be made upon the minds and hearts of the large audience present at the old Bethlehem church. "Let us labor to enter into that rest."
W.A. MONTGOMERY.

========================================================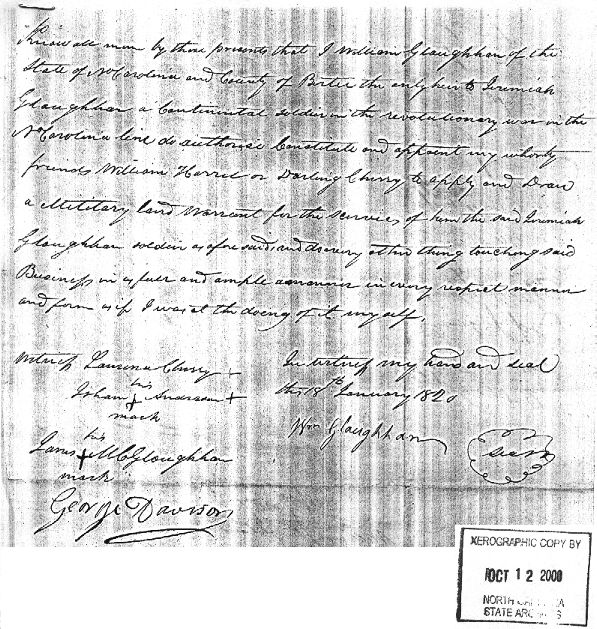 Transcription of the above document:
No 307
William Glaughhan's Power to draw Jeremiah Glaughhan Bounty land
Know all men by those presents that I william Glaughhan of the state of NoCarolina and county of Bertie the only heir to Jeremiah Glaughhan a Continential soldier in the revolutionary war in the NoCarolina line do authorize constitute and appoint my whorth friends William Harrel or Darling Cherry to apply and draw a Military land warrant for the services of him the said Jeremiah Gloughhan soldier of afore said and do every other thing touching said business in full and ample amouner in every respect mannor and form or if I was at the doing of it myself.
Witness Laurence Cherry X In ___ my hand and seal this 18th January 1820
William (?) Anderson X (his mark)
James McGloughhan (his mark)
George Davidson
Wm Glaughhan (seal)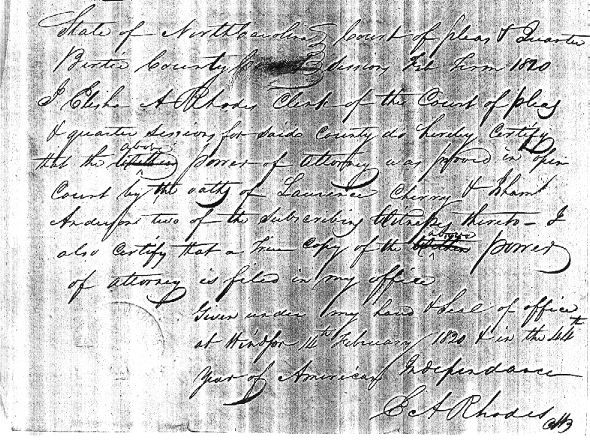 Transcription of above document:
State of North Carolina Court of Plea & quarter Bertie County sessions Feb. term 1820 I Elisha A. Rhodes clerk of the court of plea & quarter sessions for saids county do hereby certify that the above power of attorney was moved in open court by the oath of Laurence Cherry & Wm Anderson two of the subscribing whitnesses where to - I also certify that a true copy of the above power of attorney is filed in my office.
Give under my hand & seal of office at Windsor 14th February 1820 & in the 44th year of American Independance
E. A. Rhodes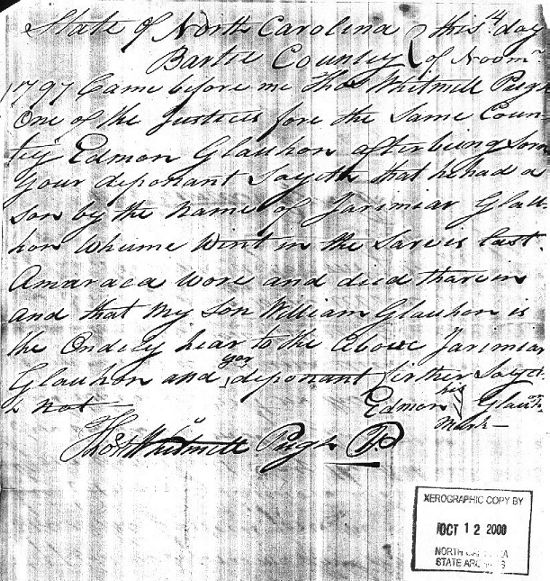 Transcription of the above document:
State of North Carolina
Bertie County
this 14 day of Novm. ~ 1797
Came before me, Thos Whitmitt Pugh, one of the Justices fore the same county
Edmon Glauhon after being sorn your deponant sayth that he had a son by the
name of Jarimiar Glauhon whume wint in the sarvis last Amaraca wore and died
thare in and that my son William Glauhon is the ondely hier to the above
Jarimiar Glauhon and you deponant fither sayth not
Edmon Glauhon (his mark)
Thos Whitmitt Pugh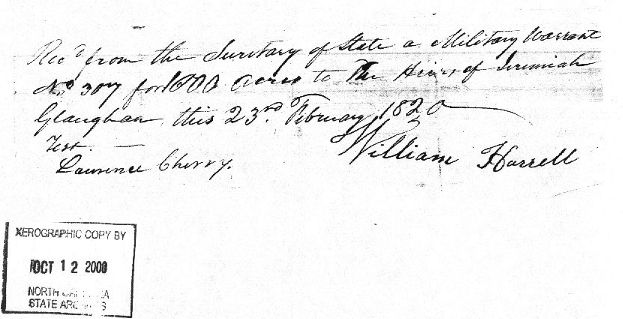 Transcription of above document:
Rec'd from the Secretary of State a military warrant No 30oo for 1000 acres to the hier of Jeremiah Glaughan this 23rd February 1820
Wst.
Laurence Cherry William Harrell